FREE WORLDWIDE SHIPPING by UPS. Your order will be shipped within 6-10 business days after receiving cleared payment. Shipping takes 5 business days. So you will receive your order in max 15 business days after your payment!

When we ship your jacket we will let you know and we will send you TRACKING NUMBER to follow status of your packet online!

We will be tracking your item too , till you receive it! It will finish after you receive your item and you are happy with it!
We accept Credit Card , Debit Card and Bank Account Online Payments by Paypal , Payoneer , Shopier , MoneyGram , Transferwise , Western Union and EFT.

For Credit Card , Debit Card and Bank Account Payments by Paypal , Payoneer and Shopier you will not pay any extra transaction fee or commission! But for MoneyGram , Transferwise , Western Union and EFT payments ; you need to pay the transaction fee additionally!
100% SATISFACTION GUARANTEED! In the case of ANY DISSATISFACTION ; SHIP LEAF JACKET BACK to us. You will GET YOUR MONEY BACK including RETURN SHIPPING FEE!

After shipping it you need to send us a photo of your shipment receipt so that we can pay you back shipping fee of return.
For any question or any help please See Our Contacts.
For NOW , ALL REGULAR and PLUS SIZES ( US Womens: 6 - 8 - 10 - 12 - 14 - 16 - 18 - 20 - 22 - 24 - 26 ) are AVAILABLE! Our STOCKS ARE LIMITED!


HOW TO ORDER YOUR SIZE:

1-) Apply our "MEASURING INSTRUCTIONS" below
2-) Get your necessary 2 measurements ( takes 5 minutes by yourself ),
3-) E-mail your measurements to us to be reviewed

That is ALL!!!
There is NO SIZE CHOOSING OPTION or SIZE CHART! BECAUSE:

There are several different sizing systems. And in the past most people had given wrong sizes! So we stop them giving and determining their sizes! Instead we get their measurements and according to their measurements WE DETERMINE EXACTLY THE RIGHT SIZE for them on behalf of them.

We developed a very easy measuring method to get buyers measurements. We need only 2 measurements which you can get yourself in 5 minutes!

Please apply MEASURING INSTRUCTIONS below carefully and exactly the way they are described!

CAUTION :: ATTENTION !!!
Because we do size determination according to our own sizing system, your necessary measurements MUST BE got by applying only our own MEASURING INSTRUCTIONS !

Any other methods , references or systems are useless and nonsense for us.

So you have to apply our own MEASURING INSTRUCTIONS to get CHEST AND WAIST values. Please use same order and terminology not to cause any confusions.
MEASURING INSTRUCTIONS
1-) From your wardrobe please choose your best fitting short zip up jacket. The jacket can be made of cotton , fabric or denim. DO NOT CHOOSE any ELASTIC or STRETCHY jacket! The JACKET you will choose MUST NOT BE STRETCHABLE or ELASTIC !
2-) Please zip the jacket up and close it completely. Then put the jacket properly on a flat and solid surface facedown like table or ground as shown in the photo below.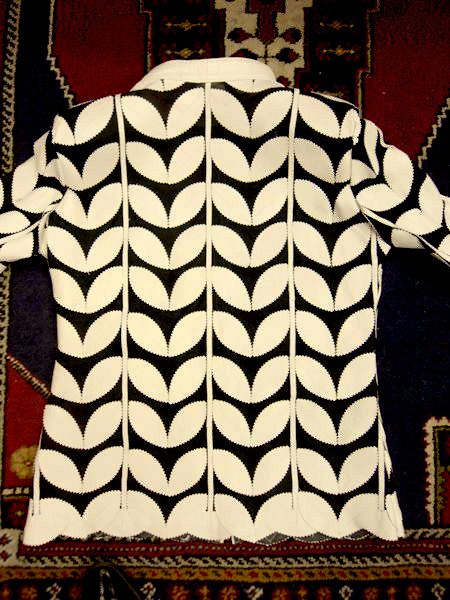 3-) Please LOCATE tape measure EXACTLY WHERE ARROW is LOCATED in the photo below from seam to seam! Then measure from the begining of the arrow to the end of the arrow! Please note this measurement as "CHEST".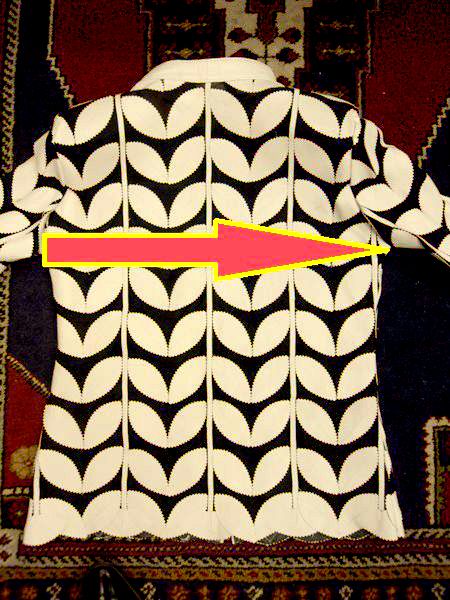 4-) Please LOCATE tape measure EXACTLY WHERE ARROW is LOCATED in the photo below from seam to seam! By moving a little up and down find out the shortest distance! Then measure from the begining of the arrow to the end of the arrow! Please note this measurement as "WAIST".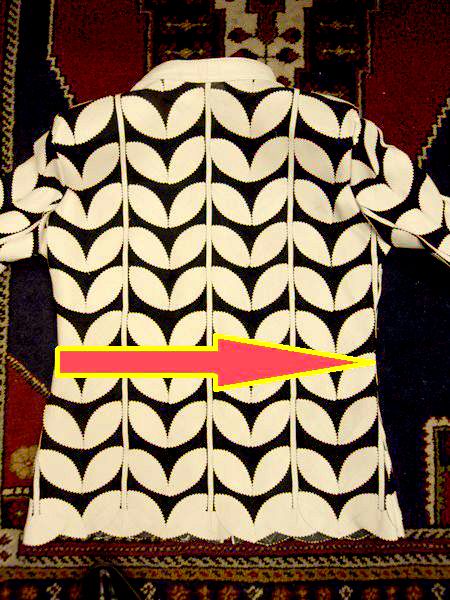 5-) Finally please e-mail "CHEST" and "WAIST" values to leatherleafjacket@hotmail.com Once we get your measurements we will determine exactly the right size for you ACCORDING TO OUR SIZING SYSTEM. Later your jacket will be shipped ASAP!





>>> PROPERTIES OF LEATHER LEAF JACKET:
100% HANDMADE in TURKEY. 100% Genuine Ultra Soft Best part of TURKISH LAMB LEATHER!
For Leather Leaf Jackets :
Leather Leaf Jackets are basicly made of leather pieces having leaf shape and tulle! First leather is cutted in leaf form. Then these leather leaf pieces are stiched and sticked on tulle. Later by cutting tulle, parts of jacket is achieved. When these parts are combined by stiching, main body of jacket is created! As final step collar and zipper are stiched. So production of leather leaf jacket is completed!

Because of tulle background the leather will be used must be very soft and light weight. That is why to make these jackets lamb skin is prefered! Tulle background makes these jackets a bit transparent(see through). Lamb skin leather leaves and tull body also provide a unique property of being so ligth weight to these jackets. We can call them as ultra light!

Leather leaf jackets will not keep you warm! So you are not supposed to wear it when is cold. Mostly you can use it as an accessory to complete your dressing at summer nights! Autumn as well. Or you can have them as inner wear too!

They are absolutely awesome, unique and stylish! That is sure leather leaf jackets will give you lots of air and greate looking :) It is a Turkish Desing! And they are made in turkey! As you may know Turkish Leather is almost number 1 in the world! It is genuine turkish lamb skin. One of the softest leather of the world! It will never chap or change the color. Because it is dipdyed color the color will never fade or goes away from the leather. So it does not paint your skin or dress like some cheap Chinese leather.

Dipdyed leather is the leather which has the paint penetrated to itself completely. So paint becomes a part of leather and will never leave the leather!

Depending on the size of jacket , it weights around 200 grams! With these feature these jackets are one of the lightest jackets in the world.

The jacket is made from such a soft leather and tulle so when you fold it properly it will take such a small place which You can easily put it into even your back or backbag! As you see the jacket takes such a small place. This will save you extra space in your suitcase , etc...






TURKISH BATHED FOR PAINTING (Dipdyed):
Turkish bath is our very special method for painting leather. Simply in this method leather is plunged into a pool of paint and kept there for two weeks under certain conditions with some special chemicals. During this time paint penetrates leather completely and integrates it. By this way paint becomes a part of leather. So paint never goes away from leather or fades. Paint lasts when leather lasts.

This special painting technic provides UNSCRATCHABLE & WATER RESISTANT LEATHER JACKETS !!!






UNSCRATCHABLE LEATHER :
Our leather is almost unscratchable! Because paint is all inside of leather and all through the thickness of leather from top to the bottom. So when our leather is scratched you can not see a different colour beneath the surface of leather. And this makes scratches not markable! That is why scratches on our leather jackets are almost unvisible. So don't worry about scratches , just enjoy your jacket.

Probably you have been faced these problems so far:

Moving Stripes of your handbags damaged or scratched your leather jacket by friction! Stripes of your handbags are not a danger for our leather jackets and this damage will not occur on our leather.

The elbows of your leather jackets are faded or damaged! By high pressure and friction in many ordinary leather jackets elbows are the fisrt part which color deformation of leather starts! High pressure and friction are not a danger for our leather jackets and this damage will not occur on our leather.






WATER RESISTANT LEATHER :
Our leather is water resistant! Because paint is all inside of leather and all through the thickness of leather from top to the bottom. So all the pores of leather are closed & filled by paint as a result of turkish bath painting. That is why water just slides over our leather and can not get into the leather. Except for heavy rain we can say that our leather jackets are water proof!

For water the only way to get into the jacket is the stitches! To prevent this you can use water proof sprays which are used for leather shoes and boots. So by water proof sprays you can make our leather jackets 100% water proof !!!

Indian or Chineese leather is painted by spray painting! Which is much easiyer , qiucker(10 minutes max.) and CHEAP! As you can guess with a spray tube paint is sprayed to surface of leather. That's it! By spray painting technic a very thin layer of paint occurs upon the surface of leather! Which is very weak for friction and high pressure. That is why for INDIAN or CHINEESE MADE :

* The leather scratches so easily ,
* A different color is seen at scratches. So scratches are very markable,
* Stripes of your handbags damages or scratches your leather jacket very easily,
* The elbows of your leather jackets are faded or damaged,
* Your leather jacket is not water resistant,
* Your leather jacket paints your skin or your dress under the rain,
* ..........



ANY OF THESE PROBLEMS WILL NOT OCCUR AT OUR PRODUCTS FOR SURE.

!!!!!! DO NOT FORGET: QUALITY DOES NOT COST. IT PAYS !!!!!!






IRONABLE LEATHER:
Our leather is ironable! Yes you can iron our leather jackets. It is unbelievable but true! You may think what the use of ironing is :

* By ironing our leather jackets you can get rid of unwanted wrinkles of leather ,
* You can get smoother and newer looking for the leather jacket,
* You can shape / form the leather jacket. For instance by folding and ironing collar , sleeves and flaps the way you want you can create different looking jackets...

Here How you can iron our leather jackets:
You need a piece of white cotton clothe like your west and a warm iron! The clothe must not be colourful and synthetic! Iron must not be hot! Please place the clothe between leather and iron. Then just iron leather jacket like you iron a shirt or trousers. BUT DO NOT USE ANY VAPOUR OR WATER !

Just press warm iron to leather! If you can not shape the leather or get rid of wrinlkes you may need to make iron warmer and press harder till you get the desired effect.






HOW TO CLEAN AND CARE LEATHER JACKET :
Our leather is cleanable! You can clean it yourself by hand.


Cleaning Lamb Skin :
All you need is one of your hand creams which you use in winter to make your hands soft and oily! Like vaseline , nivea body milk or etc... You can also use any leather cleaner sprays or creams which is used for leather shoes , bags or sofas.

BEFORE APPLYING ANYTHING TO YOUR LEATHER JACKET YOU MUST MAKE A TEST / TRIAL !! FIRST APPLY IT TO AN INNER PART OF THE JACKET WHICH IS NOT SEEN LIKE INSIDE OF SLEEVES. MAKE A TINY DOT WITH THE CREAM THEN WIPE LEATHER WITH A PIECE OF CLOTHE OR COTTON. LATER SEE THE RESULT. IF NO DAMAGE OR DEFORMATION OCCURS THEN YOU SHOULD APPLY IT TO YOUR JACKET!

First make some small dots with the cream to the dirty part by hand. Then with a piece of clothe or cotton by soft circular movements wipe the leather. So that you can get rid of spots or dirt on the leather!

You can do this not only to clean your leather jacket but also to make it softer , stronger and last longer! By this way your jacket will look newer as well.